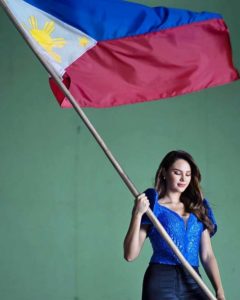 31 August 2019
MANILA, Philippines – When Steve Harvey mistakenly announced Miss Columbia as Miss Universe 2015 instead of actual winner Miss Philippines, several YouTube reaction videos were uploaded showing emotional Filipino fans disheartened over the results. When Catriona Gray won as Miss Universe 2018, several streets along Pasay, Manila, and Makati were closed to pay homage to the newly crowned beauty queen. Filipino beauty pageant fanatics are so passionate that more than a million people were in attendance to greet Miss Universe 2015 Pia Alonzo Wurtzbach in her six-hour-long homecoming parade in 2016.
The country's love affair with beauty pageants dates all the way back to the Spanish colonial period. Typically, the most beautiful lady in the barrio is chosen to be the Reina Elena during the Santacruzan, a celebration in honor of the Catholic devotions to the Blessed Virgin Mary. It was even more etched into the people's mind when the Americans arrived in the Philippines and introduced Manila Carnival Queen, a highlight of an annual festival called Manila Carnival celebrated between 1908 to 1939.
Today, thousands of beauty contests are held throughout the country every year—from local barangay competitions to national competitions. Hundreds of women from all over the Philippines train every year to be a queen hoping to represent the country in international competitions. Serious efforts are undertaken not just by the contestants but also the fans to take home these coveted crowns. As Catriona Gray described it during a live BUILD Series interview in New York, Filipinos are known to be passionate in the 3 Bs, namely, boxing, basketball, and beauty pageants.
Among the longest-running annual beauty pageants in Asia is the Binibining Pilipinas or Miss Philippines that started in 1964 and has since produced the highest number of international beauty queens in the region. The winners subsequently compete in renowned beauty pageants such as Miss Universe, Miss World, Miss International, Miss Supranational, and the like. Since Gloria Diaz Miss Universe 1969 won the first major crown, the Philippines has won at least once in all four of the biggest international pageant competitions.
Beauty pageants in the country do not only have women as contestants; there are all kinds of contests that include men, children, members of the LGBT community, and senior citizens. Training camps that facilitate at least six months of grueling courses that teach participants how to walk, talk, and dress are available. Pageant experts are mostly gay men and are highly sought after for their many years of experience in the industry. According to Filipino fashion designer Renee Salud, this opportunity gives them a chance to honor the country.
There is nothing that brings Filipinos together aside Manny Pacquiao's fights than the Miss Universe competition, which is broadcast live on national television every year. Whether at home, in offices, or traveling to work, many fanatics are glued on their TVs or smartphones to watch the live program. The fans' online presence are also largely felt, such as in the case of the 2018 Miss Universe contest held in Bangkok, Thailand wherein Miss Philippines easily raked in 2 million votes in the public online poll. As crazy as it may seem, Filipinos go all out to support their candidates.
This beauty pageant fascination might seem trivial, especially to those who are unfamiliar with it. However, when you grow up in a country where these competitions are used to raise funds for certain causes or to simply bring the community together during celebrations, this interest makes perfect sense. For a college student like Anna Claro, who also aspires to join a beauty pageant someday, watching competitions is a source of entertainment and inspiration for her dream. In the Philippines, most beauty queens enjoy fame and power after winning the crown, and in many instances, they become successful actors or politicians.
Image from Catriona Gray, https://www.instagram.com/catriona_gray/
AUTHOR: Ethnic Groups Philippines